DOCKTA D'S HUMBLE START IN MUSIC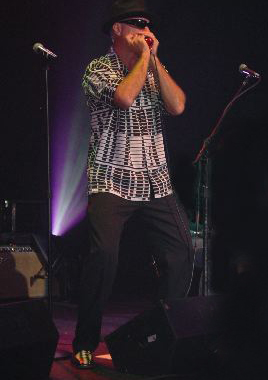 Dockta D is the 2018 Florida State Harmonica Champion and winner of the Baltimore Blues Society's IBC competition.

Born under a bad sign, Dockta D has been blowin' harmonica ever since he was ten. As an adolescent, he messed around with guitar, bass, drums, sax, and harmonica. But, he fell in love with the blues harp one fateful night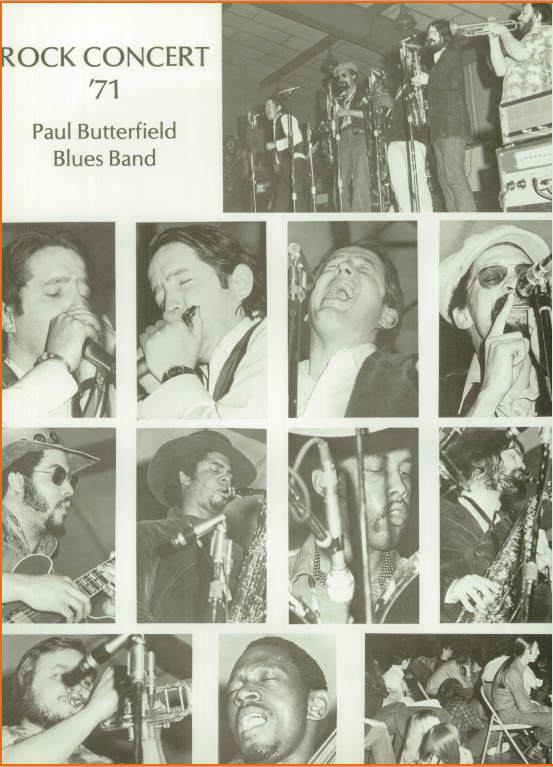 at a Paul Butterfield concert held in circa 1971 in his high school gymnasium. He had been messing around with harp for a few years but, that night, he heard the voice of God... well, it was actually Paul's sweet and monstrous amplified harp sound screaming from the PA system, and the young Dockta D (known back then as "Intern D") knew right then and there that he would be a harp player for the rest of his life. From that day forth, he could be heard practicing daily in the stairwells of his high school, which had a nice echo. Eventually, he was asked to join a local band, Icarus, (headed by Nick Bucci) and got his feet wet (literally... they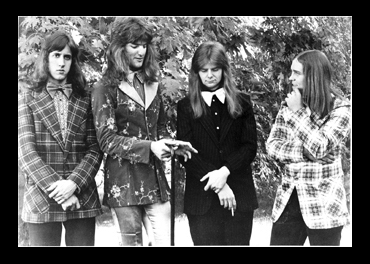 did a lot of pool parties) performing in front of people. Soon, he started his own band, which he called, "Loose Goose"*, which performed in the Quad-State area. He loved playing for people and soon adapted a 50 ft mic cable into the act so that he could venture out into the audience and play directly to the people (pre-dating the wireless audience forays of the marvelous Rod Piazza). He also pioneered the fine art of jumping from the top of the PA cabinets into the audience to end the show on the last note (and thereby credits himself with stage-diving and crowd surfing). He never broke a single leg nor skull - his own or anybody else's - not one single time.


---
STUDIO WORK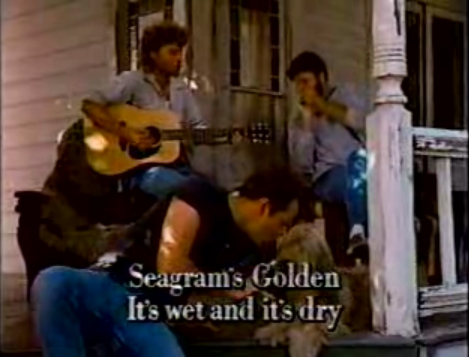 The Dockta did lots of studio work in Los Angeles, playing on various commercials and theatrical soundtracks. He performed (and acted), for instance, on that famous Seagram's Golden Wine Cooler commercial (click to watch it) with actor, Bruce Willis, who was a friend of his, the one with Willis singing on a porch with three guys, including a harmonica player, which was none other than the Dockta.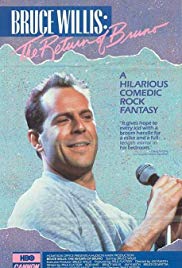 As a matter of fact, speaking of Willis, all of the harmonica "performed" by that actor in the joint HBO/Motown video/LP project, co-written, incidentally, by the Dockta, entitled The Return of Bruno (1987) (click to read all about it) (click to watch it) was not performed by Willis but was actually performed by the Dockta and lip-synced throughout by Willis (except for some harmonica played by Willis during a live concert which appears at the end of the movie).

For instance, the Dockta performed the harmonica on the Peter Gunn Theme (click to hear it), which can be heard in the "Bruno and The Basement" segment of the movie and which Willis lip-synced for the camera. Unfortunately, the executive producer, Willis, neglected to provide the proper screen credit to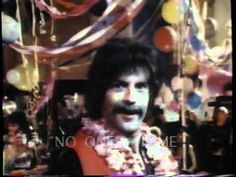 the Dockta for that harmonica work prior to its airing on HBO and prior to its release on video tape and prior to its release on DVD. But, without a doubt, the harp work is indeed the Dockta's and one need only to listen to it to identify it as the Dockta's inimitable style. As an aside, the Dockta also wrote and sang the song called No One's Home (click to hear it), for the psychedelic era segment (click to watch it) of this film, the premise being that the fictitious character "Bruno Radolini", played by Willis, recorded this number, which the Beatles heard, as the story goes, and were influenced to recorded "I Am A Walrus" and "A Day In A Life".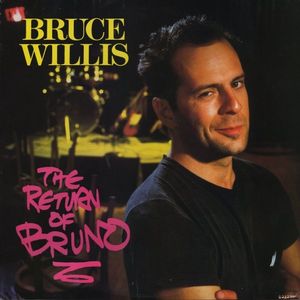 Dockta D also wrote the harmonica part for the Bruce Willis single, Respect Yourself, off the album counterpart to the video, entitled, accordingly, The Return of Bruno. The album peaked at #14 on the US Billboard 200 album chart.[2] Leadoff single Respect Yourself (click to watch it),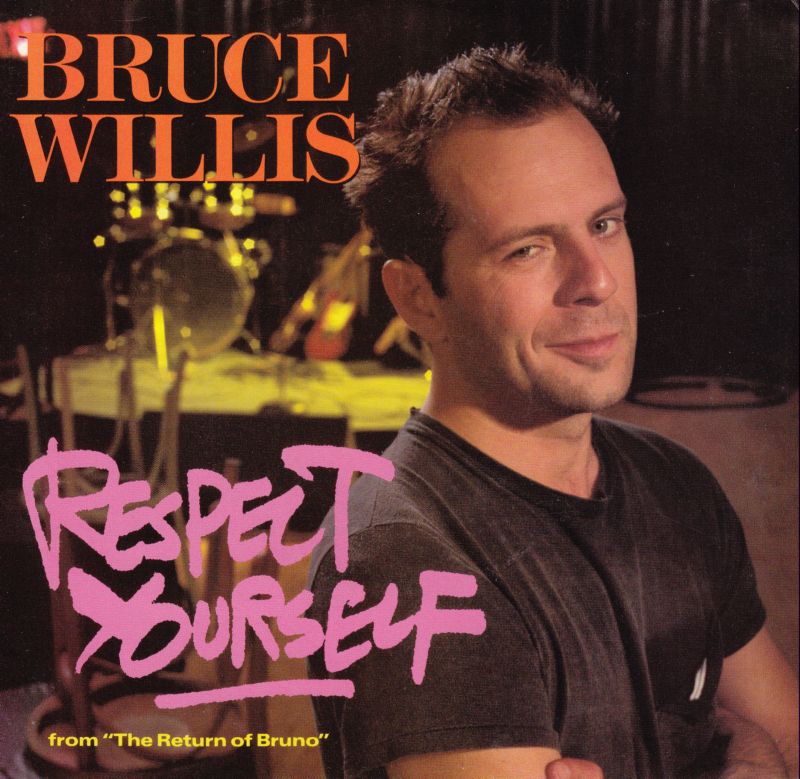 a duet with June Pointer featuring background vocals by the Pointer Sisters, was a hit. It peaked at #5 on the US Billboard Hot 100 singles chart and number 7 on the UK Singles Chart, thanks, in part, to Dockta D's harmonica vision for the tune.

As fate would have it, also in LA, Dockta D was hired to play harmonica on a commercial for Shell Oil (click to hear it). He got a call around one o'clock in the morning from a commercial producer whom he had never met who somehow got his number and he was asked if Dock could do a commercial session in the morning. Dock said yes and was instructed to be at a studio in Malibu at 7AM. During the session, the sound engineer asked him if he knew who was supposed to do that commercial and Dock said no and the guy told him that Paul Butterfield was supposed to do it but he died the night before (due to drug-related heart failure, as it were, May 4, 1987). Thus, Paul inspired him become a harp player and da Dockta was honored to fill in for him on his last Earthly gig. RIP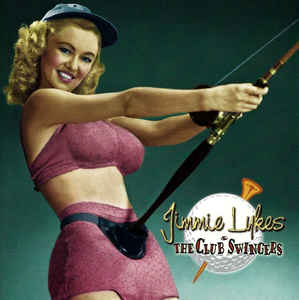 Dockta also performed harmonica on the big 1999 swing hit by Los Angeles hometown big band, Jimmie Lykes and the Club Swingers, Hey Now! (click to hear it) off their terrific big band swing album, Female Fishin'.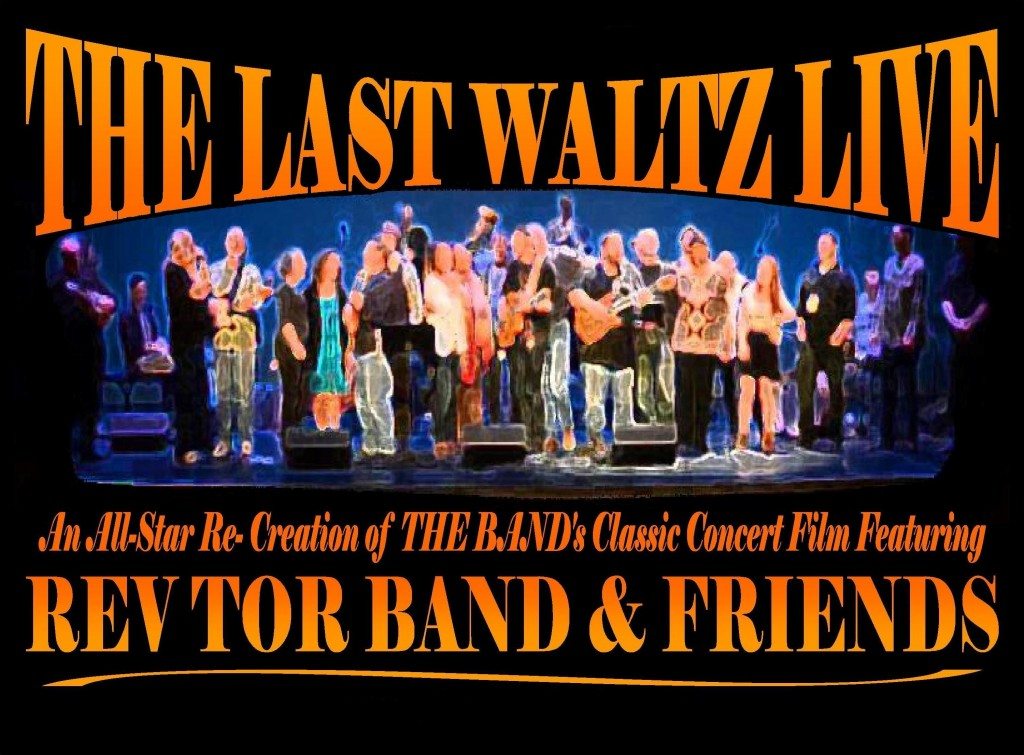 Dockta D also joined the Rev Tor band for their reenactment of The Last Waltz (click to read about it), the famous farewell tour by the The Band. Dockta D, arguably appropriately, performed the role of Paul Butterfield on the tune Mystery Train (click to hear it), on which Paul played during that Last Waltz Live tour (recorded live on 8/23/13 at the World Cafe Live in Wilmington, DE).


---
FORMER PROJECTS

The Dockta has been in numerous blues rock bands, in Delaware, Utah, California, Tennessee, and Alagonquin Territory:


"Icarus" - rock and roll (Nick Bucci's band) - Delaware
"Loose Goose" - blues/rock/boogie - Delaware
"Head First" - country/blues/rock - Park City, Utah
"The Bluebonics" - blues - Los Angeles
"The Buzz Drivers" - blues - Los Angeles
"The Bruno Brothers" - blues rock - Los Angeles
"The National Blues Band" - blues - Los Angeles
"Black and Blue" - blues - Los Angeles
"Doctor Blue" - blues - Los Angeles
"Dockta D and the Blooze Clinic" - Nashville
"The Excellerators" - hollyrock - Los Angeles




---
THE LESSER-KNOWN EXPERIMENTAL PROJECTS
(the black years)

"Dockta D and the Di-Atomix" - synthesized acid jazz - Tangytown
"Docktra Sinatra and the Killa Karoonahs" - death lounge - Greenwitch Village
"Docktor Diablo e los Quatros Marimbas Electricos" - mariachi fusion - Santo Lo Quinto Correctional Facility
"Dockta Chivago and the Crazy Cosacks" - Russian techno blues - Moscow
"Dockta Aorta and the Cardiac Arrests" - grunge aerobics - Peaceful Valley Hot Springs Resort, Meditation Retreat and Big Game Hunting Ranch (farm fed lions)
"Dockto Procto and the Buttknockers" - medical institution elevator musick - Harvard Medical School Janitors Union Hall house band - Masssacheutsettesetss
Witch Dockta and the Wacky Watussis - Afro Deziack Head Enlarging Muzak - Zimbobwae
Which Dockta and the Whodunnits - Detective Show Theme music - City of Angles (wrote themes to such obscure and short lived TV gumshoe shows as, Pigs on the Beat, Prostitute Patrol, Hawaii Six-N, The B-Team, Cape May Vice, and The Blob Squad Meets Charlies' Anorexics)

and the very laudable endeavor...

"Tasty Aid" - the concert to benefit laid-off Tasty-Kake employees at the Upper Darby plant - note: the Boss, Sting, Phil Collins, Willie Nelson, Elton John and Led Zeppelin cancelled when they heard the Dockta was going to open the show. That's understandable... who would want to follow the Dockta under any circumstances altruistic? On a happy note, the almost $600 raised at this event easily covered laid-off icing mixer, Ernie Saleski's, rent last June. Heartfelt thanks go out to all 15 attendees.

None of these projects enjoyed much success, which is why the Dock has returned to his roots herein...



---
HARMONICA INFLUENCES

As stated, Paul Butterfield was the earliest major influence on the Dock but that is probably because he had not yet been exposed to the old masters like Little Walter Jimmy Reed, Junior Wells, Sonny Boy Williamson, Sonny Terry, Howlin' Wolf and James Cotton, to name a very few. So, definitely, Paul got the ball rolling toward harp as his instrument of choice.

There were many many others from rock-n-roll, hard rock and blues:
Charlie Musselwhite's white boy blues style, similar is respects to Butterfield's approach but definitely big on 3rd position.
Lee Oscar's (of War fame) melodic single note style.
John Mayall's "chordal" and "breathy" style.
James Cotton's boogie style and high note bending expertise.
Mick Jagger's groove on "Midnight Rambler" -- cool tune.
Alan Blind Owl Wilson's (from Canned Heat) big-time boogie feel and smooth sound.
Lee Oscar's melodic, single note style.
Magic Dick's blues/pop/rock-n-roll interpretation and excellent tone. Real name Richard Salwitz ("Whammer Jammer").
Jack Bruce's (of Creem fame) incredible train emulation style (you MUST check out "Traintime" on Wheels of Fire LP).
Kim Wilson and William Clarke's hard-core white boy blues power.
Rusty Day's (from Cactus fame) acid-boogie-hard rock style.
Robert Plant's English heavy metal blues style.
Mark Farner's hard rock style. Grand Funk were masters of the orchestrated jam, which the Dock loves.
John Fogerty's high energy bayou chooglin' style ("Keep On Chooglin').
John Lennon (oddly enough) and his rock and roll harp accompaniment style (check out "Little Child").
Charlie McCoy's speed and preciseness ("Orange Blossom Special").
Bob Dylan and Neil Young's folk rock 1st position harp style (later adoped by people like Petty).
Sugar Blue's (James Whiting) cool blues style and quickness and nice tone ("Miss You" by the Stones)
Rod Piazza's superb old-school styling's, jazz and boogie-woogie influenced harp licks, and absolute master of the amplified harmonica tone.
Paul DeLay's super smooth stylings.
John Popper's monster approach to the instrument, incredible heavy amped sound, his sheer volume of notes and utter quickness.
John Sebastian (after all, he DID play on Roadhouse Blues by the Doors).
Toots Thielman, Larry Adler, Paul DeLary and Stevie Wonder's mastery of the chromatic harp.
Jean-Jacques Milteau's very nice stylings.
Adam Gussow's (Satan and Adam) superb understanding of harp equipment and mechanics.
Howard Levy's mastery of the mechanics of the instrument.
Jason Ricci's incredible understanding of the instrument, and in particular his mastery of the "overblow" and "overdraw" techniques. Whiz kid extraordinaire.
Chief "Red Lips" McClonsky's, the little known blower from from Alagonquin City, famous for his war cry harp style.
There are many other great harp players but these are major influences.



---
OTHER MUSIC INFLUENCES

Dockta D's music is eclectic and his influences are too numerous to list here, but the short list is - blues, R and B, T and A, rock, blues rock, jailhouse rock, limbo rock, religious rock, acid rock, folk rock, soft rock, hard rock, rock around the clock, rock hard crock, volcanic rock, rock opera, rock and a hard place, rock-n-roll, rolling rock, rolling stones, roll away the stone, too rolling stone, hard roll, soft roll, Italian roll, roll over Beethoven, the Beatles, the beat goes on, Texas Radio and the Big Beat, Texas swing, playground swing, swinging from the gallows pole, DC sling, Nashville swang, Francisco schwagger, Cambodian bamboo accordian, Uncasville umbilicordian, harmodium, hurdy gurdy, tin pan alley, Icelandic longboat coast-raiding hymns, funk, flunk, fusion, re-fusion, fission jazz,tango, tango-n-cash, tang the hump, ting tang walla walla bing bang, Kentucky spoon kloppting, Alabammah fork flaffing, Mussel Shoales, Mrs. Mrs. Jones, New England whaling songs, whale song, bird song, Brian's song, song sung blue, bluesmagoos, hamhock blues, country blues, city blues, roadhouse blues, hill street blues, blues for breakfast, organ grinder, church organ, Roller rink organ, morgan on the organ, the Mormon Tabernacle Choir, the Mormon Tabernacle Jazz Band, the Mormon Tabernacle Death Mettle Symphony, the Mermon T. Abernathy Mormon Barber Shop Siamese Quartuplets, Mormon campfire polygamy hymnals, Donnie and Marie, LSD music, Philadelphia psychedelia, psychedelic shack, Shak Rap, scat, Mummers, Polish polka dot, Greek wedding music, Italian funeral home music, four beat waltz, East Tennessee Smokey Mountain yodelayhehoo, Ozzie Ozborne, the theme from Ozzie and Harriet, the land of Oz castle guard chants, Oslo ohsolomeo, Latvian Kjazunknak vodka drinking nursery rhymes, the Cracker Jack jingle, soundtrack, electronic, techno, trance, house, home, home and garden, sound garden, kindergarten snack-time sing-a-longs, grunge music, la grange music, torture chamber music, new wave, old wave, permanent wave, surf music, nurf music, smurf music, beach shag music, tiki music, klatu mirata niktu nasal humming, black rapper lip and mouth drum kit emulation, hip hop, bip bop, ahhhh beep beep, merengue, marangue, opera, oprah, punta, la pinto, Mexican hat dance, Mexican halter top dance, Mexican rope belt dance, elevator muzak, nursery school red stick/blue stick marching music, ragtime, bayou bullfrog roast tunes, campfire songs, ol' Lewsianna street beat, back beat, front beat, ballroom waltz, ballroom blitz, banjo, washboard, folk, traditional African music, traditional Hawaiian fire knife virgin sacrifice log drum music, traditional new age music, contemporary old age music, Gaelic boogaloo, synthesized, musical chairs music, zydeco, wrap, Campfire Girl throat warbling, Comanche Indian tomtom war beats, the one and only Atlanta Braves "Indian" crowd chant, European soccer fan riot chants, gay and lesbian "coming out" striptese music, death row harmonica music, boogie woogie, reggae, oye oye oye punk, pink, massage parlor background meditation wave sounds, mall subliminal inspirational, world music, big band, little band, mini band, Transylvanian gypsy calypso, heavy metal (lead, iron, tin), light medal, jews harp, jews trombone, jews timbales, Palestinian la boomba, bomba y plena, Rat Pack, Rat Patrol, Mickey Mouse Club, accoustic finger style guitar, slide guitar, steel pedal guitar, Bangladesh sitar, Tibetan shitar, belly drumming, alternative music, optional music, substitute music, easy listening, hard listening, hard of hearing, country western, country eastern, city southern, salsa, samba, simba, sambo, jazzbo, harp music, harpo marx, Inuit Indian Harp seal bludgeoning chant music, commercial jingle music, country fiddle, fiddle faddle, fiddle about, classical, neo-classical, neo-lithical, ska, Gothic contrapuntal, Contra-Iranian disco, juke joint, jug band, Kate Smith, the Charleston, skin head love ballads, punk, monk, Gregorian chant, Motown sole, Irish jig, crooner, techno, soft death metal, bluegrass, greengrass, marching muzak, gospel, cotton field call and answer, Mexican pop polka, Welsh Arterial Clogging, Korean Creole, Australian dingo watzenelli waltz, Scottish bagpipe, Indian hookapipe, Swiss glockenspoogle, Finnish kazooka, Iranian self-flagellation hymnals, and Japanese kamakazee karyoke.

When he has more time he'll provide the complete list of all his musical influences, including those from the Netherlands and Butte, Montana.

As an adolescent, he went regularly to concerts and saw the likes of Jimi Hendrix, Janice Joplin (8 times), The Doors (3 times), The Allman Brothers (5 times), B.B. King (10 times), The Who, Neil Young and Crazyhorse, Santana, Iron Butterfly, Johnny Winter, Crosby, Still and Nash, Chicago, CCR, Blood, Sweat and Tears, TOP, Emerson, Lake and Palmer, Grand Funk Railroad, SRV, Procol Harum, Booker T, Jefferson Airplane and Starship, The Paul Butterfield Blues Band, Hugh Masekela, Canned Heat (7 times), Frank Zappa and the Mothers of Invention, The Moody Blues, Three Dog Night, Joe Cocker, Little Richard, Dr. John the Night Tripper, Humble Pie, The James Gang, Richie Havens, Led Zeppelin, Johnnie Taylor, Steve Miller, Supertramp, John Mayall, The J. Geils Band, Cactus, Rod Stewart and Small Faces, Aerosmith, Bad Company, Sha-Na-Na, James Brown, Weather Report, Mott the Hoople, Eric Burton and War, Sonny Stitt, Deep Purple, Rick Derringer, Edgar Winter and White Trash, The Four Tops, Frankie Vallie, James Cotton, Foghat, Genesis, Rare Earth, Peter Frampton, Herbie Hancock, Wet Willlie, Isley Brothers, Jethro Tull, Ten Years After, Journey, Traffic, The Police, Dave Mason, Steppenwolf, Robin Trower, Bob Dylan, Charlie Musselwhite, Stones, Toots Theilmans, Mountain, Yes, Bo Diddley, The Temptations, Bonnie Raitt, Black Sabbath, Jack Bruce, Staple Singers.



---
AWARDS/TITLES/COMMENDATIONS/INVENTIONS

Dockta D is a decorated veteran of many foreign battles of the bands and he holds numerous honors and titles in WHA competitions (World Harp Association, Inc.):

Winner 2002 Greater Duluth Area Pork Rhind Harmonica Blow-Off and Pig Roast, upsetting three-time winner, Jake "Blow Hard" Shaw, in a 15-round harmonica blood fest;

Winner 2005 Grand World Universal Pangeal Harmonica Schwing-Dig Jam-Offs, held last year in Reykjavik, Iceland, at Ice Age National Park. His upper lip got frostbitten but it's ok now, thanks to a gal named Johanna Ragnhildur Bergthoradottir for her quick mouth-to-mouth resuscitation;

Proud Winner of the coveted "Ho-ner Rhineland Chicken Wing Hoffbrau Beer Blitzkreig and Harp Throw-Down Championship Cup" for 2006. He defends his title this year in L' Provence d' Arpegia on the Moorish Gulf;

Runner-up in this year's Windy City Harp Suck Off and Blues Thang competition. Lonnie "Harmonidog" Kaminski took first place. He and the Dockta were neck and neck in the twenty-fifth turnaround of Stormy Monday when Doc accidentally swallowed a mini C harp after a beer mug hit him in the throat and he had to recuse himself from the competition (note: second place only took $178 bucks and two tickets to the annual St. Paddy's Pulled Pork Porch Picnic and Dart Throw but, what the hey, there was plenty of beer);

Came in 13th Place in the All-Arounds at last year's 3rd Annual Trout Rodeo, Frisbee Golf, andUnusual Instrument competition;

Took 902nd place in the 2005 Alaska State Harpoon Cup (it should be noted that the Dockta thought it was a harmonica competition but decided to stay in Naknek and compete anyway. Despite his piteous performance in the harpoon throwing and whale bone sculpting events, he did learn how to stalk harp seals and developed an affinity for blubber burgers);

Holds an Honorary Professorate of Vibration Harmonics from the infamous Walter Reed Institute of Audio Dynamonics (the manufactory where they manufactor the reeds for harmonicas, kazoos, and panfloots) in Upper Honkers, NY, awarded pre-humously (because he's still alive);

The Dockta is recognized widely as the pregenetrator of the fine art of Crowd Smurfing;

Directorperson and Chairperson of the Greater Wilmington Area Harmonica Lampoon Society and Blind Children's Orphanage Charity Fund, benefiting all blind, indigent, orphaned harmonica players across the First State, such as, Dockta D. (Well, actually, he's not really blind but sometimes feigns it in his act to pick up extra tips. Everybody does it, so it's no big deal);

Founder, Delaware Association For The Illegally Blind. Tax-deferred annuity-deductable cash contributions may be sent to the Dockta at the addess listed herein;

Holds Royale Grande Meisterklauss Harmonicalutionist Classification in the lower 47 States (Utah doesn't recognize the Blues... only the Jazz), awarded just two years ago at the Old Pioneer Days County Fair and Blues Whollapalooza, entitling him to place his name at the top of the sign-up sheet at all WHA-sanctioned open-mic nites from here to Baltimore, including, of course, the infamous White Horse Lounge in Havre de Grace;

Voted "Best Philharmonic Windjammer", for his circular breathing and circular reasoning techniques, at the 2004 Bose Audiophiliac Convention (sponsored by Bose) held that year at the 'World Famous' Route 42 Truck Stop, Rodeo and Casino located in Algonquin Territory, just up the road a snake from the old landfill. Note, Dockta D doesn't remember much about this event but graciously accepts the honor post-memorially;

Head Superintendent of the Better Harlem Harp Boys Consortium (sponsored by Bose), a laudable organization dedicated to teaching young stray homeless harp boys, like Dockta D was, how to survive on the mean streets, such as, how to shuck and jive, how to tap dance for money, how to shoot craps in back alleys, how to re-load a 45 on a dead run, how to run a 3 card Molly scam, and how to play "Willie and The Po' Boys" on the harmonica for when you are in the bull pen awaiting arraignment;

Inventor of the concept "nuclear fusion harmonics" which has revolutionized the way people think about overblown high notes on a harmonica and their affect on the female libido;

Discovered the fact that harmonica is like a woodwind instrument except that the Japanese have perfected plastic harmonicas and so Doc came up with the phrase "plasticwind" to deal with that;

Was the first to suggest that "the blues" should be renamed "the blacks" cause them's the folks that discovered it and they should get they props. So, you would say, "I got the blacks for you, baby";

Although suffering from Singular Schlerosis, a rare form of the disease, in which only the schlero on the left side is inflicted, he still holds the State record for the longest known rendition of Magic Dick's Whammer Jammer (14 hours, 22 minutes, 6 seconds), achieved in response to a $20 barroom challenge from Clarence "Wide Mouth" Henderson, of the Delaware City Blue Collar Boys (note: Guiness refuses to recognize the record because the Dockta greased his lips with Pennsoil for the last three hours. To this day, he refuses to drink their beer);

Founder of the newly formed Harp Logger Brewing Company - the dock intends to spank Guiness by stealing away a sizeable chunk of their market share - Ha! then, maybe they'll whistle a different tune about his bloody record;

Author of the bestselling book***, The Tibbetin Book of the Dead, which is basically a book about what happens to you when you die, which is, basically, that you die, and that's pretty much it;

Author of the bestselling book, The Tibbetin Book of the Un-Dead, which is basically a book about what happens to you when you don't die, which is, basically, a bunch of crap, which is why there is the "blues" (or the "blacks", as Dockta D prefers) on this Earth;

Author of the bestselling book, The Tibbetin Book of the Un-Born, which is basically a book about what happens to you if you are never born, which is, basically, not much.

Original model for the Mister Softee logo, for which he received a lifetime supply of hot choco-dip and walnut topping on any sundae of his choice purchased on any Sunday of his choice (except during the second Sunday of each month during "Second Sunday Second Scoup Free" promotions);




Creator of the latest urban craze, Hippity Hoppity (which is gangsta rap for kindergartners) with cool tunes like "Can't Get My MoFo Cookies and Milk", "Shot Miss Malinda Wit Ma Pea Shoota", and "F%*k Dem Naps Bitch";

Penned the new blues standard, "Calmy Tuesday", which is catching on in blues venues across the nation. You see, the Dock got absolutely sick and tired of hearing "Stormy Monday", played over and over and over, ad nauseum, in blues joints everywhere with the song lasting sometimes well over 20 minutes. Calmy Tuesday is only 24 bars long, has only one verse and no turn-arounds and lasts about a minute.



"Well, they call me Calmy Tuesday
But Wednesday's just as mild
Yeah, they call me Calmy Tuesday
But Wednesday's just as mild
And Thursday's even nicer
And Friday I get high"
(or the alternate, "Friday I get by",
depending on if yer playing it on the Ed Sullivan Show)



World Record Holder for writing the most songs about Honky Tonkin'. Here are just a few written by the Dockta:

Road Hogin' Horn Honkin' Honky Tonkin' Truck Drivin' Blues
Honky Tonkin' Is Fun
Honky Tonkin' Is Easy
I Like Honky Tonkin'
Willie Wonka Honky Tonka
Honky Tonk Pick Up Lines and Honky Tonk Pick Up Trucks
When I Die I'm Goin' To Honky Tonk Heaven
When I Die I'm Goin' To Honky Tonk Hell
When I Die I'm Goin' To Honky Tonk Valhalla
When I Am Deceased I Will Visit The Honky Tonk Hereafter
When I Die I'm Goin' Down To The Honky Tonk And Get Drunk One More Time
I Lost My Honky Tonk Dog Somewhere Behind The Bar
My Momma Nursed Me On A Honky Tonk Still
I Got The Honky Tonk Tank Top Tiddy Bar Blues
I Got The Hip Hop Honky Tonk Muthafukin Blues
Got Me A Horse Named Honky Tonk And A Dog Named Honky Tonk, Too
I Got The Boot Kickin', Harp Lickin', Fiddle Pickin', Honky Tonkin' Blues

and many, many, more...


And so, there you have it: as you can see, the Dockta has had quite a prolific career, spanning many months, as a musician, writer, inventor, and creator of many cool things.



---
*Note: to set the record straight, the actor, Bruce Willis, was never a member of Loose Goose, as has often been reported erroneously on the Internet. He hired my band once and that's it. No other connection other than jamming occasionally.

***Note: bestselling in Death Valley, California and in the shoretown of Khirbat Qumran north bank of the Dead Sea.